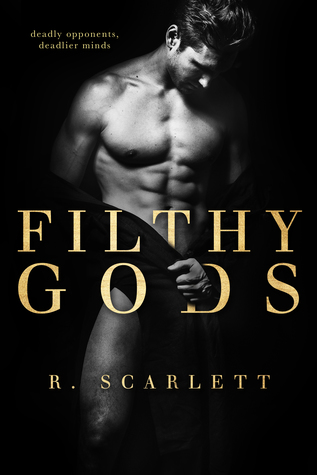 5/5 stars
CW: sexual harassment & sexual assault
Synopsis: Young. Wealthy. Elite. Attractive. The gentlemen's secret society at Yale was filled with them.
And Nathaniel Radcliffe, the bane of my existence, was one of them.
As the right hand of the American Gods, he was conceited and arrogant. A dangerously handsome man in a tailored custom suit and shiny black oxford loafers.
The classroom was our battlefield. We made a sport out of arguing and debating, ready to do anything in order to win over the other.
Deadly opponents, deadlier minds.
I'd sworn I'd never give him the upper hand, until…
The secret I've been hiding for the last three years?
He just discovered it… and now he has all the power.
I'll just start off by saying this was, singlehandedly, the best purchase of my life. I've been adjusting to life as a college student, and I still managed to finish this whole book in one sitting (maybe some homework didn't get finished, but that's neither here nor there.) Since I've been a little busy with school, it's taken me a little time to write this, but now that I am, I will not stop raving about this.
First of all, this is a novella. A novella. This was just a mere taste of what she's going to give us, and I'm already highly anticipating the actual release of the series (seriously, when is it gonna come out, a girl is SHAKING with excitement.)
the plot
I cannot stress enough about how we need more college-aged NA books. I've read countless romance books, and only a few were set in college. College is a time for living life and trying new things, and I believe there should be way more books centered around this than there currently are. Thank God (and R. Scarlett) for this book, they really blessed us with this release.
The story sets up the base for her upcoming series American Gods, focusing on Juliette and her biggest rival, Nathaniel (who happens to be very good friends with the "American Gods.") The two are at the top of their law programs, yet Juliette always finds herself just a little short of reaching Nathaniel's status. Their illicit affair begins when Nathaniel finds out a secret she's been keeping the past 3 years. Using it against her, he makes a tempting offer that will benefit the both of them. The book jumps right into their relationship, sparing no detail of their late night adventures together. They only have the summer together, and every moment they're together is pure fireworks exploding everywhere.
the characters
Oof, don't get me started on them. Juliette is a stubborn, determined, feisty student fighting for a place at the table with all the other Ivy Leagues. She's the epitome of working hard for what you want, and all the hard work pays off. She's top of her class (under Nathaniel), and she constantly has to prove she deserves to be Yale with all the other rich and famous people. Nathaniel is the typical arrogant, charming, damnably handsome guy who always seems to get what he wants. As you can see, the two very different personalities are bound to clash. Not only are these two electric, but the author also introduces the heroes for her upcoming series in subtle ways. Juliette catches glimpses of Gabe, Arsen, and James throughout the summer, building up their mysterious backstory that has me intrigued beyond belief.
P.S. Gabe's story is the next book expected to drop, and he was my favorite in this novella, I'm so excited to see what happens to him.
the romance
AHHHHH!!!!! THIS WHOLE PART WILL BE IN CAPS LOCK BECAUSE THAT'S HOW THEY MAKE ME FEEL!!!!! THEIR TWO PERSONALITIES COMPLIMENT EACH OTHER SO WELL. THE BANTER BETWEEN THE TWO IS THROUGH THE ROOF AT ALL TIMES. THEY'RE CONSTANTLY CHALLENGING EACH OTHER, PURPOSEFULLY SAYING THINGS JUST TO GET A RISE OUT OF THE OTHER. SINCE THE FIRST DAY THEY MET, THEY'VE ALWAYS CLASHED HEADS. IT MAY HAVE BEEN A NOVELLA THAT PICKED UP AFTER 3 YEARS OF KNOWING EACH OTHER, BUT YOU CAN PHYSICALLY FEEL THE TENSION THAT HAS BUILT UP BETWEEN THEM IN THAT TIME. EVERYTHING WAS HOT, SEXY, SPARKS FLYING OFF THEM AT ALL TIMES. A TRUE RIVALS TO LOVERS STORY, R. SCARLETT PROVES YOU DON'T NEED TO BE FRIENDS TO GET THE BENEFITS.
the writing
This was the first book by R. Scarlett I've ever read (thank you Kat), and it was nothing short of spectacular. For me, this book was perfectly paced and had the perfect amount of sex scenes. Personally, I'm a fan of more fast-paced books. Don't get me wrong, I love a good slow burn, but a person can only be on fire for so long before they burn to ash. The romance took off right from the start, and the whole length of it was building their relationship and developing the next series. Her male characters are somewhat haughty and confident, but it doesn't make them any less compassionate and real. It's nice to read more dominant centered relationships while also illustrating the independence and strength of the female love interests. Not once in the story does Nathaniel intentionally patronize Juliette for not being as good as him or for being poorer. He may be an ass at most times, but he values her wit and intellect. They truly are equals, two halves of a whole, and I can't wait to see what R. Scarlett brings with her next book (seriously, again, when is it coming?!)
R. Scarlett's newest series American Gods, will be coming soon, but until then you should all read this one. It's a quick, steamy read, and will leave you hanging on for the next installment. PLUS, it's only 99c on Amazon!